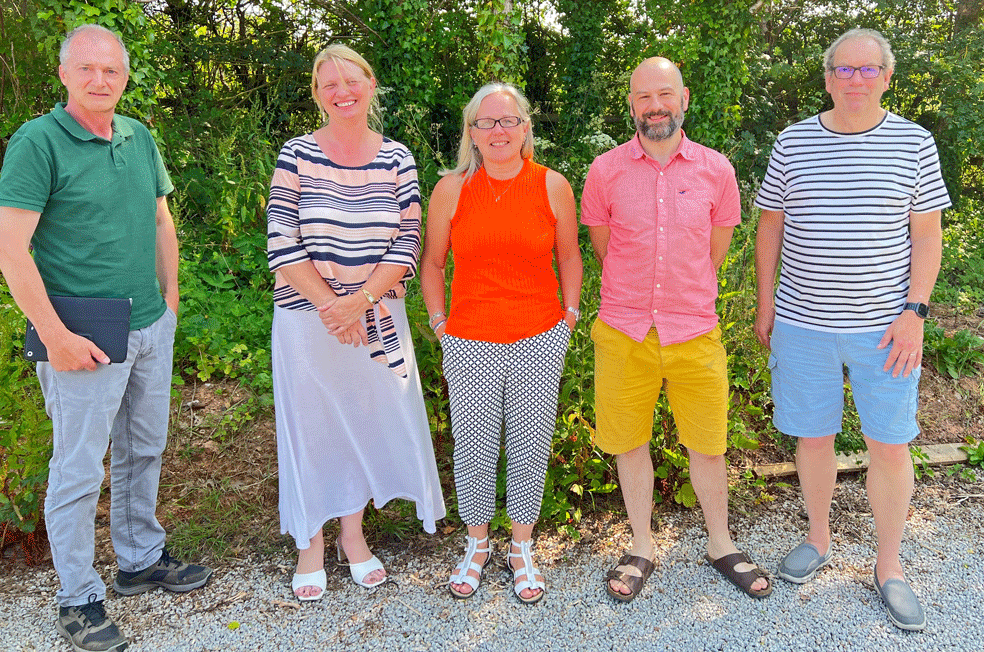 The Team (Left to right) - Nick Berry, Karen Chilcott, Alison Salvador, Gareth Williams, Tony Painter
Your first point of contact will be our Grants Officer, Tony Painter, who will guide you through the application process.
Your application will then be dealt with by your assigned Grants Officer, right up until the Funding Group or Board of Directors meeting. They will work closely with you and will help with any queries you may have. Once you have received notification that your project is to be considered by the Funding Group then you will be contacted by a Project Liaison Officer who will make an appointment to come and visit your project site. If your project is funded, your Grants Officer will continue to look after your project, supported by Karen Chilcott our Finance & Support Officer, right through to the draw down of your last penny. The Operations Manager will monitor ongoing compliance of your project.
From your initial enquiry to completion of funding, the Grants and Project Liaison Officers are trained to help you with every aspect of your project. Each member of the team is on hand to offer assistance and advice to ensure that your application is complete and compliant prior to consideration by our Funding Group and in the future.
If you are based in Scotland then you will also be assisted by our local representative Michael Cunningham.
The Operations Manager is in charge of the team looking after our projects. As well as the Grants Officer we have a Project Liaison Officer in England and a Project Liaison Manager in Scotland. They are the eyes and ears of the Team in the various regions of the country. They visit every project prior to its consideration by the Funding Group in order to make sure that projects are eligible and compliant and that the panels have all the information they need to make a decision on funding. The Project Liaison Officer will contact applicants during the application process to arrange a meeting at the project site, and will visit projects on their completion.
Throughout the life of the project regular, mandatory progress reports will be requested from you.  These are important as they will help the team identify potential problems and we can see where Valencia Communities Fund can assist you in ensuring that your project runs smoothly. The progress reports will also ensure that the Team are kept up to date on what is happening with your project so that if any issues do arise, they can be dealt with as soon as possible.
The team is also your point of contact for PR-related queries.
Valencia Communities Fund will inspect projects for up to 20 years after completion to ensure that the Landfill Communities Fund and Scottish Landfill Communities Fund monies that were originally spent on the project are still being used compliantly.